Booking sports lessons online with SkiBook, SkateBook, and TennisBook
Discover SkiBook, SkateBook and TennisBook, the online reservation system for sports lessons.
SkiBook operates easy, quick and online. For SkiBook all you need is an internet connection. Customers create their own account and book their sports lessons online where and when it suits them. The bookings will pour in even when your school is closed and without intervention of employees.
As a result of the corona pandemic people have gotten used to making online reservations for their (sports) activities. The homogeneity of the group is very important when it comes to making a reservation for sports classes. Children have to be admitted into the right age-category, adults into an adult-class and the skill level of participants has to be within a close range. Ski- Skate or TennisBook enables the manager to set up the group lay-out completely according to his/her wishes and makes sure that the online system does the best possible job.
Advantages of using Ski, Skate or TennisBook
Successfully operating since 2014 and in continuous development according to the wishes of active users
24/7 online booking from your website, to realtime availability, with direct payment
Mobile responsive webdesign, enabling users to directly book, plan and pay lessons from all mobile devices
Keep your customers informed by direct mail and automated messages
Customers receive last-minute notifications for available spots on their preferred time and day
App for making reservations and cancelling lessons
Ski-, Skate- and TennisBook operate completely according to the AVG privacy law
Ski- Skate- and TennisBook distinguish themselves from other online booking solutions by i.a.:
New and returning customers can check realtime availability, tailored to their skill level and age
Booking for more than one person at the same time, with different skill level or age
Customer can book and pay directly and receive direct confirmation of their reservation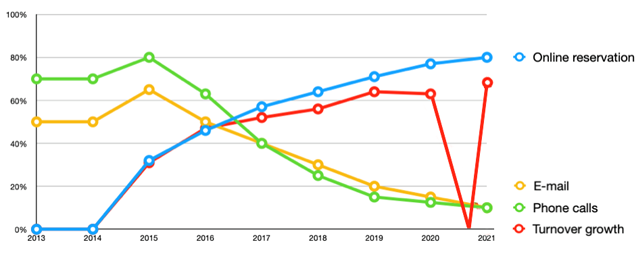 Since commissioning SkiBook in September 2014, SkiDiscovery has experienced 60% turnover growth. During the first season of using SkiBook, the amount of calls and emails lightly increased because of questions and inquiries involving online booking. After the first season, phone- and email traffic has been significantly decreased and continue to do so.
SkiBook is used as an online service through a private cloud, including all updates. A fixed monthly fee will grant you acces to the online system.
The latest software will be available to you, without the need to invest in hardware or IT-management systems.
SkateBook, TennisBook, SwimBook, HorseridingBook
The online booking system SkiBook as developed by SkiDiscovery has proven to be a great online tool not only for ski schools
For (ice)skating schools, tennis schools, swimming schools and riding schools, SkiBook provides the ideal online solution. Sports schools have a need to provide their customers with tailored group lay-out, corresponding with their age, skill level and discipline. Recently, SkiBook has expanded their services to SkateBook and TennisBook. Further expansion towards SwimBook is well underway.
Let's move together towards a digitally advanced sports world!
SkiBook biedt voordeel voor alle partijen, skischoolmanager, cursist en leraar: